List Of Scientific Microscopes Available
Posted by Admin on February, 20, 2021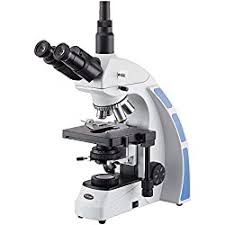 A microscope is an object used by Scientists in Laboratory which helps us to see that items which are not visible with the naked eyes. These are some of the essential instruments of any microbiologist or virologist or any Scientist dealing with microorganism.

Types of Microscopes
There are various types of microscopes and they are grouped in various ways. However, the most well-known is the optical microscope which is used in school laboratories and colleges, and universities. Other than this several other Scientific Microscopes are available in the market. Some of them are as follows:

• Optical Microscope- There is a lot of Physics involved in the working of the Microscope and an Optical Microscope is one such microscope that involves the action of light. This mainly deals with the reflection of light and enlarging the image of the object with the help of this particular reflection. This is one of the most common microscopes and is very much prevalent in schools, research laboratories, universities, and other places.
• Electron Microscope- Here, electromagnetic glasses are fixed and the amount of electrons reflected at a particular rate makes the visibility of the object possible. There are mainly two types of electron microscopes the transmission electron microscope (TEMs) and Scanning Electron Microscopes (SEMs).
• Scanning Probe Microscopes- The Scanning Probes are of various types and they mainly depend on the scanning of a small area and how they interact with the object. The main types of scanning probes are atomic force microscopes, near-field optical microscopes, and tunneling microscopes.
• Others- Several other types of microscopes are available for various scientific methods. these are not that popular but are used for various purposes. Some of them are scanning acoustic microscopes, quantum microscopes, laser capture, and many others.
These are a few of the well-known microscopes that are available in the market and can be checked out.

The Market
A huge amount of scientific instruments are subjected to foreign exports. These Scientific microscope exporters work in one of the most dominant sectors when it comes to exporting scientific instruments because these are items that develop the country's socio-economic status in several ways.
There are several manufacturers of this knowledge equipment and all the major scientific labs like IISER and TISS as well as technical institutes namely the IITs and NITs also need a considerable amount of these products per annum. Hence these products are of utmost importance as they cater to the bright minds of the community and helps in the overall progress of society as a whole.

The General Picture
India is a poor country to be precise. Hence to feed the bright minds of the country it becomes impossible for the Government. Here in India, we are more concerned about poverty and it is said if the population stays below the poverty line then it will be of no use to innovate something because there will be no one to appreciate it. This story gives rise to a situation which shows us that today India exports most of its product to the Western Countries and takes the name of innovation. This situation is really demotivating for the young scientists of India but India is improving and it will rub out the miseries very soon.


This entry was posted on February, 20, 2021 at 11 : 15 am and is filed under Scientific Microscopes. You can follow any responses to this entry through the RSS 2.0 feed. You can leave a response from your own site.