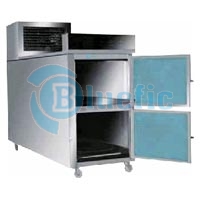 Death in every sense is wrecking, however the situation is. But, honouring the dead body till the last rites are done is quite important. A dead human body is likely to decay within a few hours after death. On the domestic front, rarely mortuary chambers are used unless it is meant for storing for a good long time. The requirement of storing dead bodies is usually in Hospitals, Public Mortuaries, Investigation centres and many relevant places. So, mortuary chambers should bear the important features that will ensure proper preservation of the dead body.

Tough And Sturdy:
A mortuary chamber is likely to get aggressive handling during its usage. Hence, a tough and sturdy build is most preferred. Doubled-walled chambers with heavy linings and frames make an ideal mortuary chamber. Stainless steel chambers with enclosed walls are popular in use at several mortuaries.

Refrigeration:
The temperature plays a crucial role to keep the dead body away from decaying. Usually, temperature ranging from minus ten to minus twenty degrees is preferred. In this temperature range, dead bodies can be stored for almost a week. The chamber should be air-tight after closing the doors to maintain the temperature inside.

Lighting
Adequately-lit environment inside mortuary chambers is a must. Many mortuary chamber manufacturers in India produce good quality chambers with decent lighting conditions. It should also be noted that the lighting should be fluorescent as it will not allow any kind of heating inside the mortuary chamber.

Medical Grade Steel
The steel lining of the mortuary chamber should be of 304-grade steel. This prevents any metallic contamination of the dead body. In case, the subject is sub-judicial or any kind of forensic investigation or any post-mortem is pending, the dead body should be away from any such elements that can change the skin parameters upon contact.


Easy To Clean
The mortuary chamber should be a smooth-finished, polished surface, with no scope for any foreign matter to stick. Steel-lined chambers are easy to clean and keep protected. The microbial flora of the mortuary chamber is an important parameter as it will be deciding the duration to which a body can be stored without any sort of decomposition.

Multiple Body Storage Option
This is a must-have feature in the mortuary chamber. The facility to store more than one body usually in the range of 2,4,6,8 is preferred. The possibility of receiving more than one dead body will always hover, hence a pre-maintained space for storing additional bodies are better. Chambers with multiple body storage capacity is an added advantage.

Safety
The cabinets in a mortuary chamber should give hundred percent protection from any kind of foreign intrusion. Any kind of unauthorized access to open the chamber should be avoided through proper locking system. This way, the dead body can be prevented from unseen damages. Make sure to get a safe environment for storing dead bodies.

There is no denying that a properly lit, enclosed, refrigerated, and safe mortuary chamber is what an organisation requires. The capacity varies as per the demand of cases. But, ensuring and being prepared for any foreseen problems is always helpful.
This entry was posted on January, 04, 2022 at 10 : 49 am and is filed under Mortuary Chamber. You can follow any responses to this entry through the RSS 2.0 feed. You can leave a response from your own site.